The first luxury waterfront development of its kind offering quality property since 1999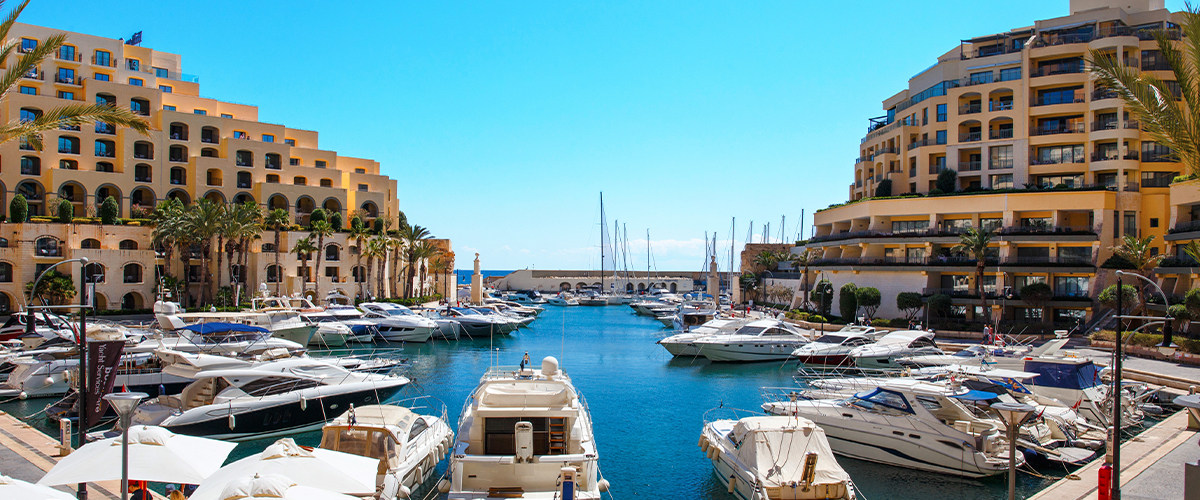 Rent Trends 
Type

Status

Bedrooms

Price

Apartment

Furnished

1 bedroom – 56.00 m

2

€ 1,500

Apartment

Furnished

2 bedrooms –

95.00 m

2

€ 3,000

Penthouse

Furnished

3 bedrooms-

400.00 m

2

€ 6,950

Office Space

Furnished

174.00 m

2

€ 2,833
Sale Trends 
Type

Status

Bedrooms

Price

Apartment

Furnished

1 bedroom – 78.00 m

2

€ 425,000

Apartment

Furnished

2 bedrooms – 

100.00 m

2

€ 710,000

Penthouse

Furnished

4 bedrooms –

670.00 m

2

€ 4,950,000

Office Space

Furnished

164.00 m

2

€ 955,000
Disclaimer: Whilst we try to keep prices updated at all times, these might vary
Life In Portomaso Development
Portomaso is the name of a luxurious development located on the coastline near Paceville, the liveliest part of the city of St Julian's. The Tumas Group developed the area and has received many awards since its completion in 1999.
Portomaso is the island's most exclusive residential, leisure, and business address. It has been awarded the Gold Award in the Best Marina Development Category and Silver Award in the Luxury Development Category in the 2005 International Property Awards.
The development encompasses a superbly landscaped coastal area of approximately 130,000 square meters, featuring a privately owned and operated yacht marina, resulting in a tranquil haven hidden in a busy central area. The Marina is open to small watercraft as well as motor cruisers, which cannot exceed 16 meters in length.
The apartment blocks overlooking the marina are set in layers, reminiscent of the traditional layered fields of the Maltese rural landscape. Tall palm trees add an exotic touch, while the expensive yachts provide that unmatched feeling of luxury.
Portomaso offers top-notch luxurious apartments in Malta, including top-floor penthouses that feature staff quarters, private pools, high-quality finishes, and spacious duplexes with sea views and garden terraces. Local buyers and foreign investors find the Portomaso development highly appealing, and it is considered one the best investment opportunities in Malta's property market.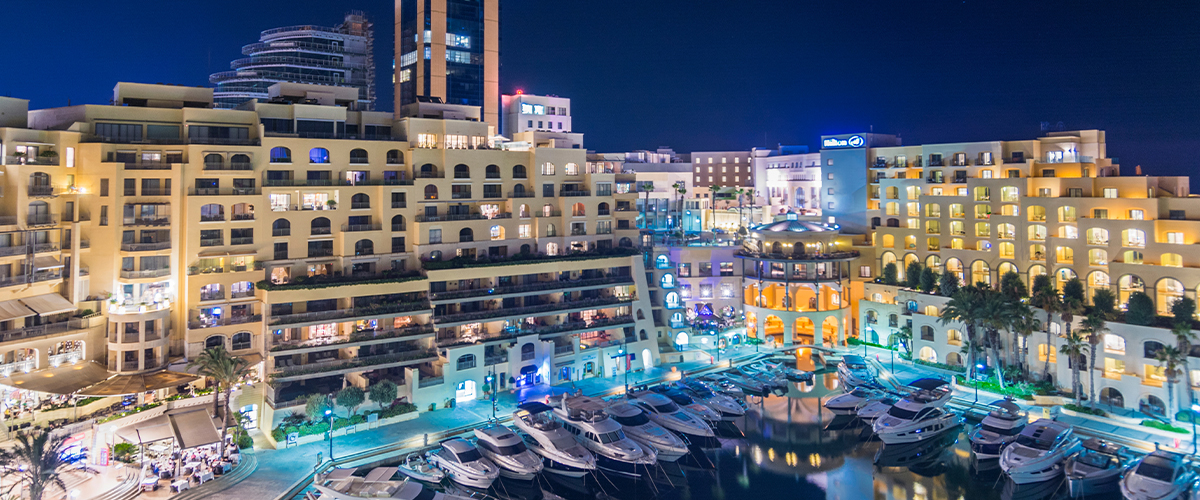 1. Amenities   
Portomaso Development is an ideal blend of peaceful relaxation and thrilling urban living. This seafront project is home to the Hilton Malta, a five-star hotel, and the Portomaso Business Tower, a tall building that can be seen from almost anywhere on the island and is considered an important landmark. The area also includes a conference venue, restaurants, and a shopping mall with underground parking. 
Residents of the Portomaso development can enjoy a wide range of both leisure and active amenities. The community is semi-gated and self-sufficient, providing a car-free environment for its residents. The Marina's common areas are kept immaculate with the help of a 24-hour security team and landscapers. Moreover, high-end businesses and restaurants occupy some offices and retail sites in the community.
If you're seeking convenience at every step, Arkadia Supermarket is a great shopping center located on the ground floor of Portomaso Business Tower. It offers a wide selection of quality brands to fulfill most shopping needs. Additionally, many luxury shops in Portomaso and its surroundings sell items such as fine jewelry, designer fashion, luxury watches, hairdresser services, nail technician services, international wines, art, and more.
Plenty of fine dining options are available if you're keen on socializing and enjoying good food. And you can continue the fun into the night at Malta's most exclusive nightclubs, which can be found on top of the business tower. Additionally, intimate restaurants and a classy wine bar in the marina offer casual and fine dining experiences for those who prefer to keep things casual.
The development also has excellent amenities for those who want relaxation and peace. These include a top-notch health club, a beach club, and a beautiful marina that is the focal point of Portomaso. The marina attracts both yachtsmen and residents, and you can enjoy its upscale scenery from your terrace or on a leisurely evening walk.
Portomaso is also a Special Designated Ares, which gives foreigners a high level of flexibility and favorable conditions in dealing with property purchased within the complex.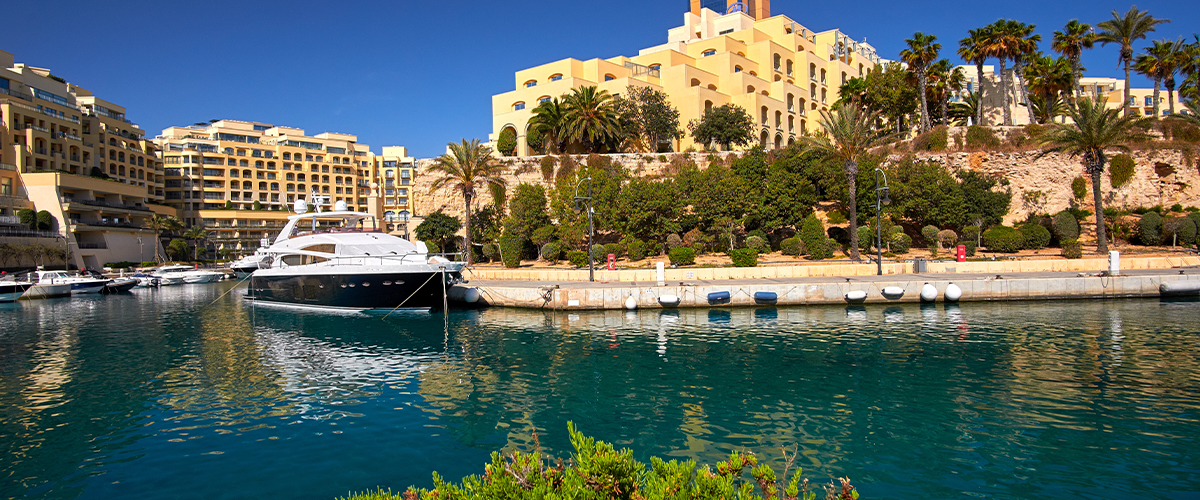 2. Property Types
Portomaso is well-known for featuring various luxury apartments, penthouses, and duplexes with beautiful landscaping areas and views. There are rumors that some famous people own properties there, making these apartments the most exclusive and high-class properties in the area.
The majority of apartments offer a stunning view of the development. Some have an inland view, while others have both a view of the marina and a view of the shady and sunny sides of the Sliema seafront. 
Apartments come in various sizes, ranging from small one-bedroom units to multi-level properties, 3/4 bedroom villa apartments, and even large penthouses with their own swimming pool.
Portomaso also has an underground car park that can accommodate every property, which is one of its advantages. The prices vary depending on the available options, and you can either purchase or rent it as it becomes available.
People both from Malta and from abroad are drawn to the lifestyle at Portomaso. The complex's appeal lies in its all-in-one convenience, beauty, and luxury for all who desire to invest in property here.
3. History and Culture
Portomaso Development is located in St. Julian's, a town named after its patron saint with a population of approximately 8,000. Prior to 1800, it was a small fishing village located around Balluta and Spinola Bays. Only a handful of structures existed – the Spinola Palace, an old parish church, a few fishermen's huts, and a few farmhouses in the rural areas. Currently, the city is highly vibrant, with an active nightlife, fantastic shopping options, stunning beaches, and remarkable dining choices.

Portomosao was a groundbreaking waterfront development that was inaugurated in Malta in 1999, which was the first of its kind, gaining significant public attention. Spinola Development Co. Ltd. initiated the multi-million project in 1996. A hitherto new concept for Malta, Portomaso represents a landmark in real estate entrepreneurship. It adds a new dimension to living standards in Malta, attracting demand from the upper-bracket visitor.