Life In Southridge Modern Living Mellieha
The opulent Southridge neighborhood in Mellieha is home to upscale houses and flats. This prominent position is surrounded by lush vegetation and has unimpeded views of the ocean. 
The big homes have high-end finishes, expansive terraces, and private swimming pools. Southridge is only a short drive from Mellieha's picturesque town center and is near some of Malta's most stunning beaches.
Within minutes, one may travel to the surrounding sandy beaches Ghadira, Golden Sands, and Ghajn Tuffieha, as well as the 20-minute ferry ride to Gozo. The distinctive Southridge project is a prominent landmark on the northern part of the Island. 
Amenities   
The Modern Living project will enjoy total privacy having its own private service road that leads into a 3-level underground private carpark. Its location is just over 400 meters from the town center.
With its own private service road leading into a three-level underground private parking garage, this spectacular south-facing property will enjoy complete solitude. Everything is available, from local shopping malls to exquisite dining, cafés, and pubs. 
The Southridge lifestyle development features:
Amazing views facing south

Luxurious finished and design styles

Underlying car parking 

Large terraces

115sqm – 350sqm apartments 

Close to plenty of amenities from beaches to restaurants and pubs
Property Types
A variety of apartment units are being built to the greatest standards on the outskirts of Mellieha, yet they are only 400 meters from the town's heart. A private underground parking garage and private service road are features of the Southridge smart residences. 
They will enjoy breathtaking, south-facing, unrestricted vistas from the front terraces. In addition, there will be three double bedrooms with en-suite bathrooms each, a guest toilet, a wash/storage room, a private drying patio, and a back terrace in the generously sized (200 sqm) living space.
Apartments range in size from 155 square meters to 350 square meters, and each one has a dedicated service road with access to a 3-level private underground parking garage. Despite being located in a residential area of the city, Southridge is close to all amenities, including neighboring sandy beaches like Gadira (Mellieha Bay), Golden Sands, and Riviera beach, as well as retail malls, restaurants, cafés, and bars. Additionally, it is only a short drive from a 20-minute boat ride to Gozo.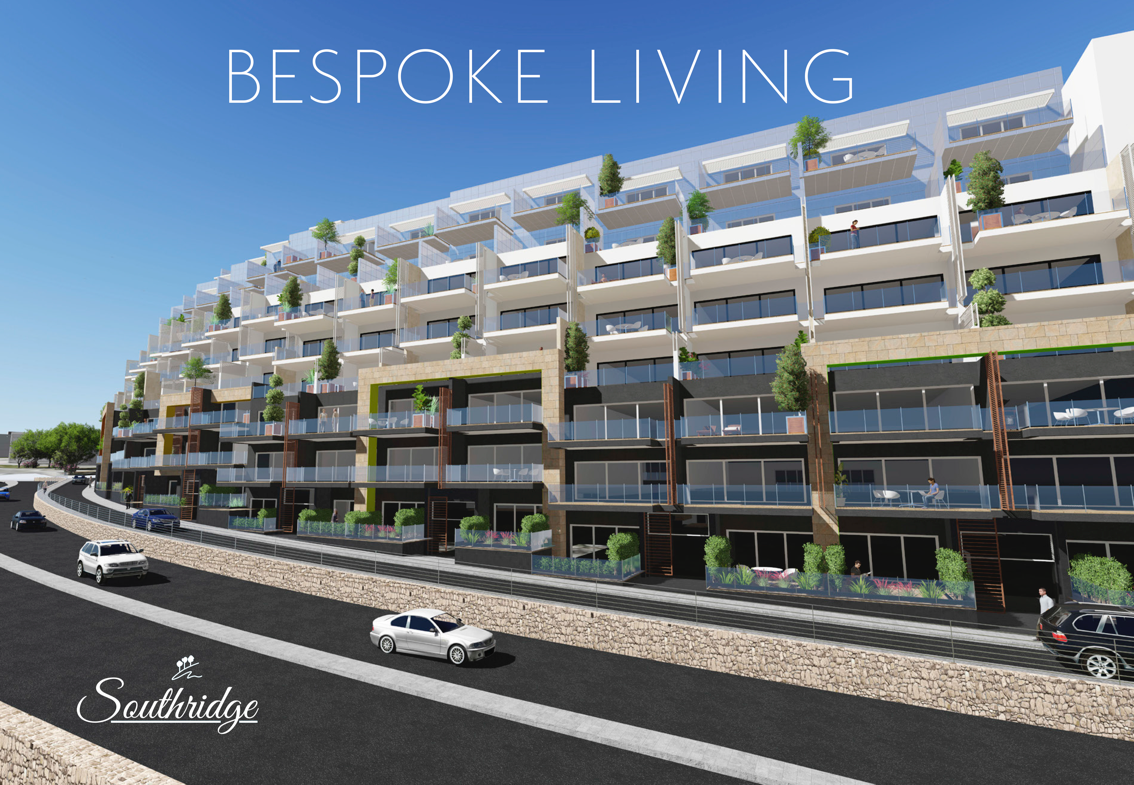 History and Culture
Mellieħa is located on a hilltop in the northwest part of Malta. To the north is the beautiful sandy beach of Ghadira Bay, and beyond are the islands of Comino and Gozo. On the southern side, the village enjoys spectacular, unobstructed country views.
Mellieħa is a bayside town known for its safety and as a relaxing destination for travelers in summer and winter.
All amenities are available within the locality: from shopping centers to fine dining, cafés, and bars. Trips to the nearby sandy beaches Għadira, Golden Sands, and Għajn Tuffieha are all reached within minutes, while the ferry crossing to Gozo is just 20 minutes away.
According to archaeological findings, the village was inhabited from the Neolithic until the Byzantine era, but following the Arab conquest, the region was abandoned. The last time Mellieha was populated again was during the Knights era. Mellieha was actually formed during British colonialism when individuals were given leases to entice them to move there. Mellieha is still a favorite among international home buyers nowadays. Most visitors to Mellieha feel welcomed and at home because the residents are known for their kindness and hospitality.
After encouraging people to settle in the area by providing leases to the locals, Mellieha, as a village, grew during British colonization. The region had previously been abandoned for two centuries out of dread of assaults by corsairs and Saracens. 
There were not many villagers in the area prior to that. The village of Mellieha prospered after the British encouraged the Maltese to relocate there. The community now has a large number of villas that are popular with foreigners looking to live near the sea. 
The most well-known bays in Mellieha include Mellieha Bay and Armier Bay, Ramla Bay, Paradise Bay, Mgiebah Bay, Mistra Bay, and Golden Bay. Mellieha is home to some of Malta's largest and most picturesque bays.