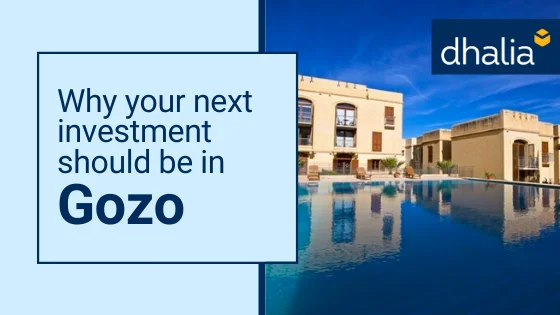 Gozo is a charming Mediterranean island and the perfect place to invest in a second home. The sister island to Malta, Gozo, is much smaller but packs a punch when it comes to culture and beaches. Visitors will confirm that life in Gozo is tranquil due to the island's rural nature.
If you're looking for an investment property with rental potential, Gozo is definitely worth considering. The property market here is stable and there is high demand for vacation rentals, especially in the summer months. Prices are also very reasonable, especially when compared to other Mediterranean islands. So if you're looking for a beautiful place to invest in a home, Gozo should be at the top of your list!
Gozo – A Small Island With A Lot Of Character
Not only is Gozo a great place to relax and unwind, but it is also a wise investment choice. The Gozitan property market is currently booming, thanks to a combination of factors such as low-interest rates, increased tourism, and the Maltese government's efforts to make Gozo more attractive to foreign investors. So whether you're looking for a holiday home or a long-term investment, Gozo is definitely worth considering. Here are the main benefits of living in Gozo: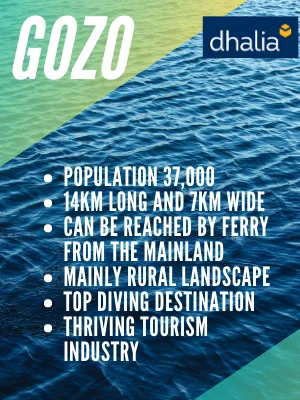 Beautiful Natural Settings 
Gozo is known for its stunning natural beauty. This small island is filled with lush forests, breathtaking beaches, and crystal-clear waters. The combination of these gorgeous outdoor settings makes it easy to see why so many are drawn to this area. Whether you'd like to spend your days lounging on the beach or exploring the surrounding forests, Gozo has something for everyone. 
Rich History and Culture 
In addition to its beautiful natural settings, Gozo also boasts a rich history and culture that make it an attractive destination for those looking to learn more about the area's past. From ancient temples to traditional fishing villages, there are countless opportunities here to experience all that this charming island has to offer. Plus, with some of the best archaeological sites in all of Europe, you'll have plenty of opportunities to explore Gozo's fascinating past.
Affordability 
For many people considering moving abroad, affordability is an important factor when deciding where they'd like their next home to be located. Fortunately, living in Gozo doesn't have to break the bank – thanks partly to its smaller size and population density (the island's total area measures just 26 square miles).
With lower property taxes and cost-of-living expenses than many other places around Europe, Gozo may be just what you need if you're looking for an affordable yet still desirable place to call home. The price of a finished apartment in Gozo is, on average, around €1500 – 1700 per square meter. The price for a typical two-bedroom holiday apartment starts from around €135,000. Expect to pay around €180,000 for larger apartments, penthouses, or apartments with country views.
Tax Reduced To 2%
The Maltese government is offering a limited-time reduction in stamp duty from 5% down to 2%. This applies to those purchasing residential property in Gozo by the end of the year. The move is part of a wider effort to incentivize investment in Gozo, which is seen as key to the island's economic development. The reduction in stamp duty will make an investment in Gozo more attractive and is expected to lead to an increase in property prices on the island. In addition, the move will provide a boost to the construction sector and create jobs in the short term. Overall, the government's decision is a positive step for the economy of Gozo and is likely to have long-term benefits for the island.
A Growing Market
If you're considering buying a property in Gozo, it's helpful to know what kinds of properties are available. This small island has a larger stock of traditional houses, especially "houses of character," townhouses, and farmhouses. These older properties often come with more land and tend to be built with attention to craftsmanship and detail. Currently, there are fewer apartments and penthouses on the market in Gozo than in Malta, but that is likely to change in the near future as a number of small developments are currently under construction.
Of course, each type of property has its own advantages and disadvantages, so it's important to think carefully about what kind of property is right for you. But whatever your preference, you're sure to find something to suit your needs on this beautiful island. Purchasing property in Gozo is a great idea because you can rent out your holiday home for short lets while you aren't using it. This is especially attractive for farmhouses with pools, which offer a good rental return during the high season.
Special Property For Foreign Buyers In Gozo
Both EU- and non-EU nationals can purchase property with the same rights as Maltese citizens, especially if they decide to buy in a Special Designated Area (SDA). Purchasers may opt to lease out their properties and enjoy capital growth and rental yields.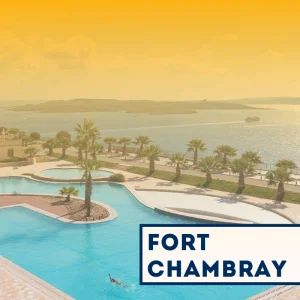 Fort Chambray, Gozo
Fort Chambray is an old city within a fortress and also one of Gozo's three Special Designated Areas. Built by the Knights of St. John 250 years ago, it was the centre of defense for the island's inhabitants.
The development comprises a number of new residential blocks and some original defense structures which have been restored. The buildings have been constructed from limestone by local tradesmen using traditional methods and the entire development has been carefully structured to create a traditional village core environment. Fort Chambray combines the traditional and the modern into a unique upmarket development within a fortified city.
Here you will find villas, ground-floor apartments, and duplexes for purchase, with investors already listing some of them on Booking.com and Airbnb.com. Highly finished but unfurnished – although some resales do come furnished – this has become one of the most desirable postcodes on the island.
"It's the only SDA of its kind on Gozo," adds David Sultana, Dhalia's Rabat branch manager in Gozo. "The setting is spectacular; the view is breath-taking, the communal pool is the largest on the island, and, best of all, it's freehold – which means buyers also own a percentage of the common parts!"
Features:
Communal pool
Unbeatable sea views
Underlying parking garage
Unique 17th Century Fort
Close to Gozo ferry