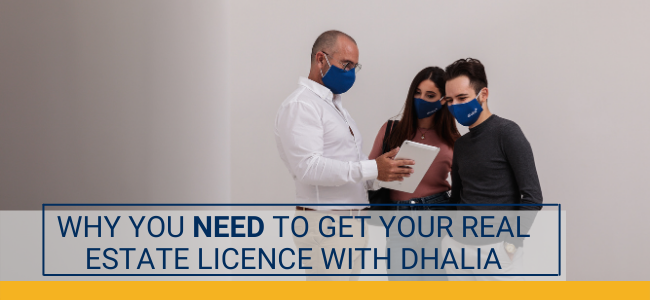 Dhalia Real Estate is the first real estate agency in Malta to be licenced by the Malta Further & Higher Education Authority (MFHEA) as a Further Education Institution. Our training centre provides anyone wishing to acquire a real estate licence and join the real estate industry the opportunity with our qualified courses and experienced tutors. 
Following the recent change in the law concerning the accreditation of real estate professionals, all those seeking to work in real estate must hold a certificate and qualify for a special licence, which is valid for 5 years.
Our training centre is up to date with all real estate industry knowledge and skills required for certification, including work experience and guidance from our managers. However, acquiring your certificate through us also provides trainees with other great benefits:
Get certified from home with flexible sessions:
Trainees have the option to carry out their training remotely, with different sessions during the week, making our course flexible and easily accessible from the safety of one's own home. We understand the needs of our trainees and the current times, so flexibility is one of our top priorities!
Training is on the house:
Courses cost money, but at Dhalia, we want you to save. Training is in-house, meaning that our courses are being offered free of charge. We want to invest in your success!
Learn from our experienced tutors:
Our course provides training from several experienced tutors – these include lawyers, notaries, and our marketing manager, all with years of experience working with real estate. These tutors add to the quality of our course and provide a holistic look at the workings of the real estate industry.

Guidance from experienced managers & consultants:
Apart from our theoretical education course, at Dhalia we also place importance on education by experience. Once the course is complete, beginners are paired with experienced property consultants and managers. We aim to prepare new recruits for everything they may encounter in the working world as a property specialist.
Licenced from a well-known, reputable & respected agency:
At Dhalia, we pride ourselves on the work we have done to become one of the most successful real estate agencies on the island, as well as being the first licensed agency to provide this certification. We aim to produce high-quality services in everything we do, including our training. By getting your certification with us, you can be assured that what you are taught is supported by years of arduous work, commitment and experience.
The benefits of our training centre are not to be missed – this is a terrific opportunity to get your certification through a reputable agency, which has your success in mind. We provide the expertise and dedication to help make our trainees successful in all aspects of their work in the real estate industry. 
Apply NOW to get the full training experience!