Malta is the ideal destination for beach lovers looking for an eternal summer feeling. Whether you merely want to relax in the sand and take in some sunshine, catch a wave or two on your surfboard, or get up close to an array of sea creatures, Malta has you covered. What's more, with its greatest property market, there's no limit to housing opportunities if you decide to make this island your home. From open-blue Qawra Point to the lively Golden Bay Beach – whichever one you choose, living near any of these oceanside paradises will guarantee nothing short of an amazing lifestyle! Here are our picks for the best 10 beaches in Malta that you should consider moving next to.
Armier Bay Beach – Mellieha 
With its crystal clear turquoise waters and golden sand, Armier Bay Beach is one of the most idyllic spots in all of Malta. This hidden gem has remained largely undisturbed due to its tranquil, remote location and offers visitors a peaceful haven away from the bustling crowds at Mellieha Bay, located only three kilometers away. It's perfect for picnickers looking for some downtime surrounded by nature and those seeking a less-packed beach experience. With views of the open sea, gentle breezes, white sand, crystal blue waters, and plenty of bird-watching opportunities, this soothing backdrop makes it hard not to relax. It's a great spot for swimming and snorkeling, and there are plenty of facilities available, including showers, toilets, and restaurants. The beach is also popular with windsurfers and kiteboarders thanks to its reliable winds.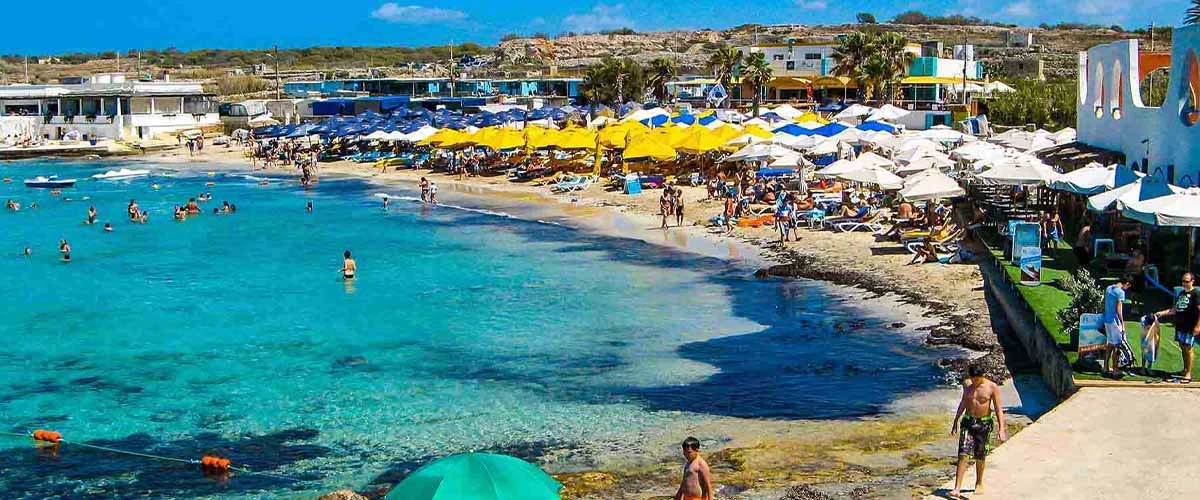 Ghajn Tuffieha Bay Beach – Mellieha  
This tiny bay beach may be small, but it packs a punch when it comes to beauty! Surrounded by steep cliffs and hillsides, you'll feel as though you have stepped into a place untouched by civilization. While the beach may seem isolated in its beautiful setting, it is actually easily accessible after descending 200 steps from a nearby hiking trail. With its clear blue waters and soft white sand, it's easy to see why Ghajn Tuffieha Bay Beach is so popular with locals and tourists alike.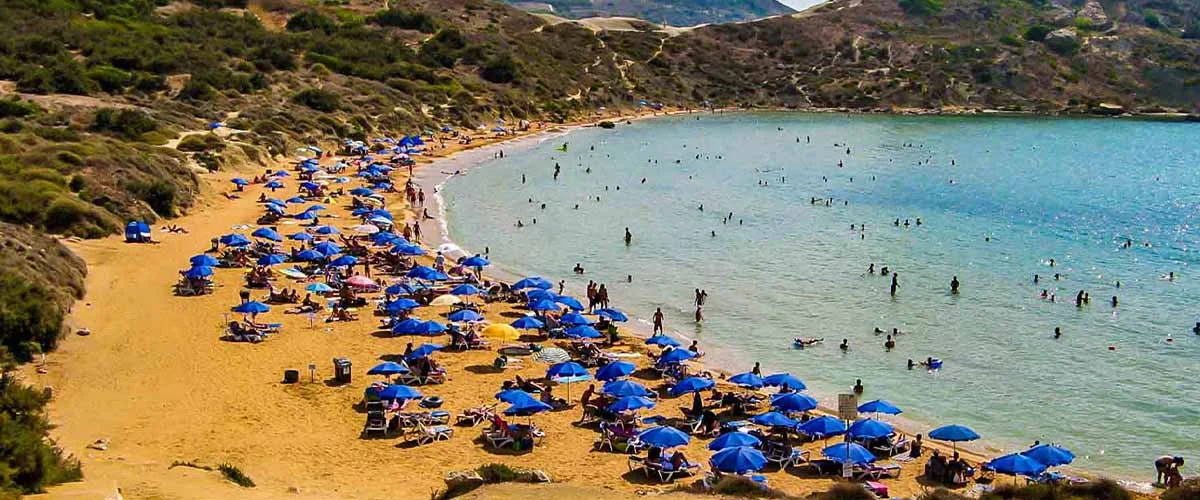 Golden Bay Beach – Mellieha
Golden Bay Beach may be one of the busiest beaches in Malta, but it's also one of the most beautiful. It has everything you could want from a beach—shallow waters perfect for swimming, soft white sand ideal for sunbathing, and plenty of facilities like restaurants and water sports centers. Golden Bay Beach is close to many attractions like Popeye Village and Gnejna Bay Nature Reserve, making it an ideal spot for families looking for a day out.
Ramla Bay Beach – Gozo
Ir-Ramla il-Hamra is a breathtaking beach set to a lovely bucolic backdrop. When you step foot onto the wide shoreline, you will find yourself surrounded by rolling hills and lush greenery. While there are no hotels or restaurants on the beach itself, this only adds to the raw beauty and serenity of the surroundings – an ideal escape for those who long for some peace and quiet. The sweet scent in the air from the rich farmland nearby is proof that nature's bounty abounds at Ir-Ramla il-Hamra and makes it truly special.
Ramla Bay Beach has earned itself the nickname "Red Sands" thanks to its unique reddish hue, which sets it apart from other beaches on this list. This stunning stretch of sand is perfect for relaxing or swimming while admiring views across Gozo Island or Comino Island just off the coast. The beach also has some basic facilities, including restrooms, showers, lifeguards, and small food stalls!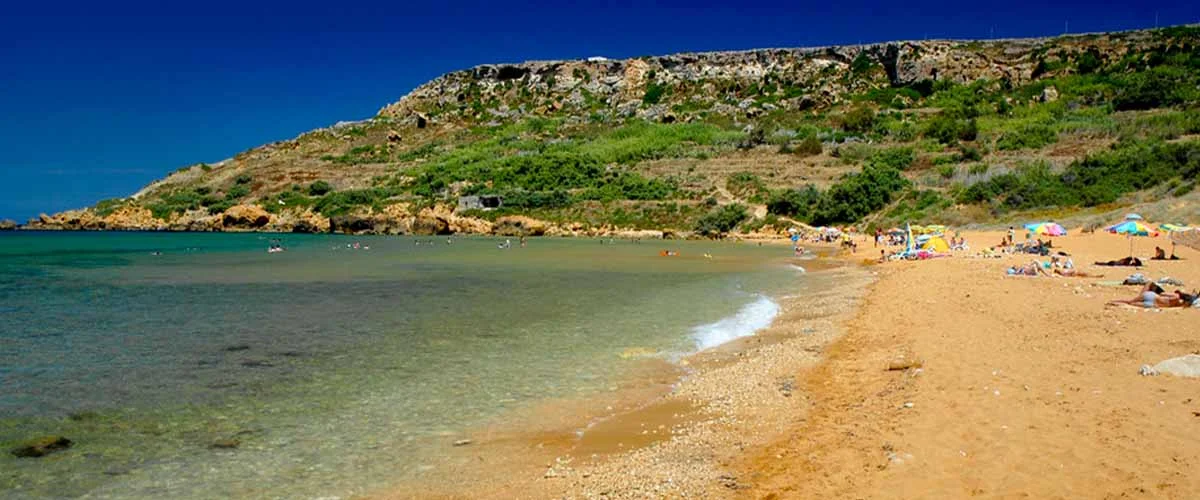 Ghadira Bay – Mellieha 
Known as "Malta's Riviera," Ghadira Bay is a stunning sandy beach located in the northern part of the country near Mellieha. This picturesque bay offers plenty of activities, such as swimming, sunbathing, boating, jet skiing, and more. Plus, there are plenty of eateries nearby, so you can grab a bite to eat after spending time at the beach.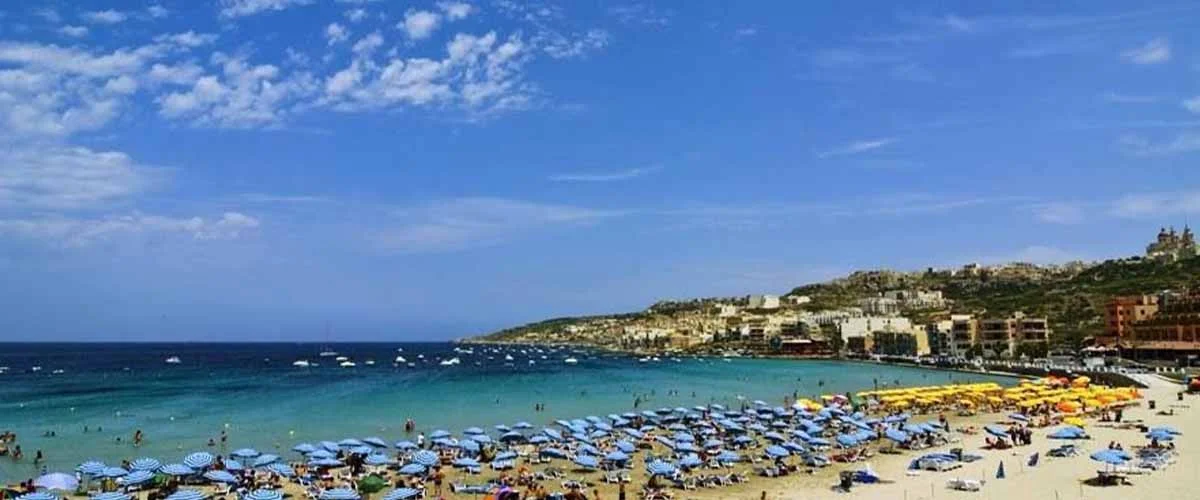 Ta' Fra Ben (Qawra Point) – Bugibba
Qawra Point is a must-see location on the northern tip of Malta. The gently sloping white sand beaches, historic sites nearby, and breathtaking views of the sea make for an ideal destination. It is also an ideal spot for early morning swims, with plenty of locals taking a dip before starting their day. The beach also provides visitors with the chance to experience a slice of Maltese culture – locals tend to frequent it in the evenings, setting up barbeques and enjoying a pleasant night out under the stars.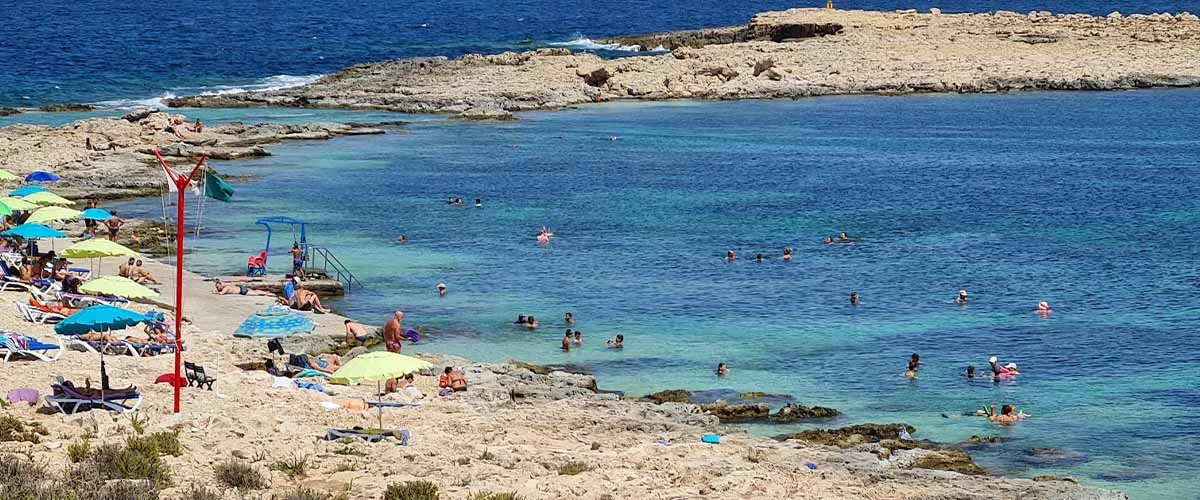 Xlendi Beach – Gozo
Xlendi Beach is one of the most popular beaches on Gozo Island, thanks to its stunning panoramic views and location filled with restaurants nearby. While this beach doesn't come with a lot of sand where you can sunbathe under your umbrella, it has crystal clear waters that are perfect for swimming or snorkeling, as well as several cafes where you can relax while taking in the beautiful scenery around you.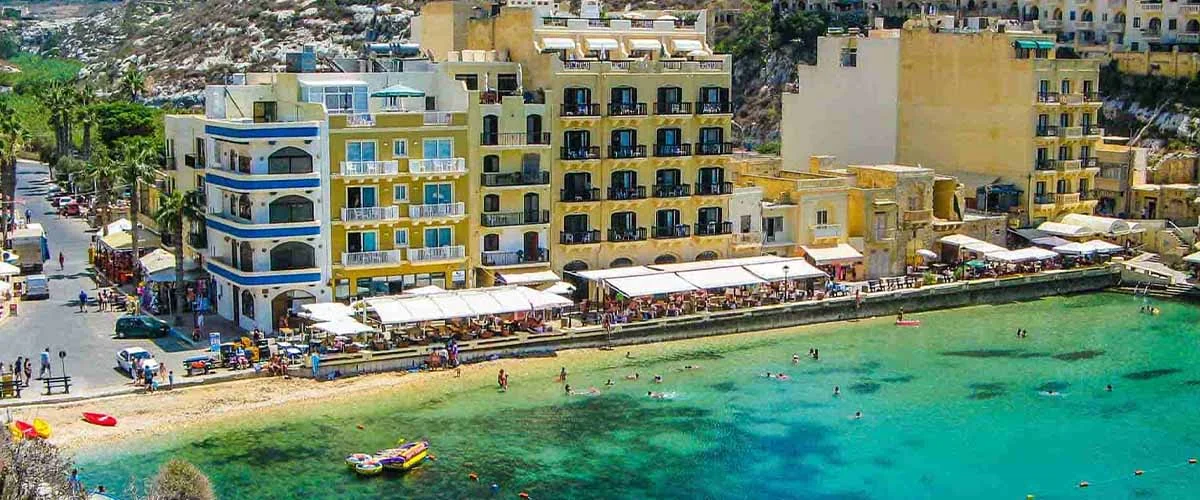 St. Peter's Pool – Marsaxlokk
Not necessarily a beach in the traditional sense, but this place is one of the most popular in Malta. Situated near the quaint fishing village of Marsaxlokk, St. Peter's Pool is one of the best spots for snorkeling due to its diverse marine life, including starfish and other sea creatures. The pool itself is sheltered by several rocks that form a natural barrier against waves, making it safe for swimming even during rough weather conditions.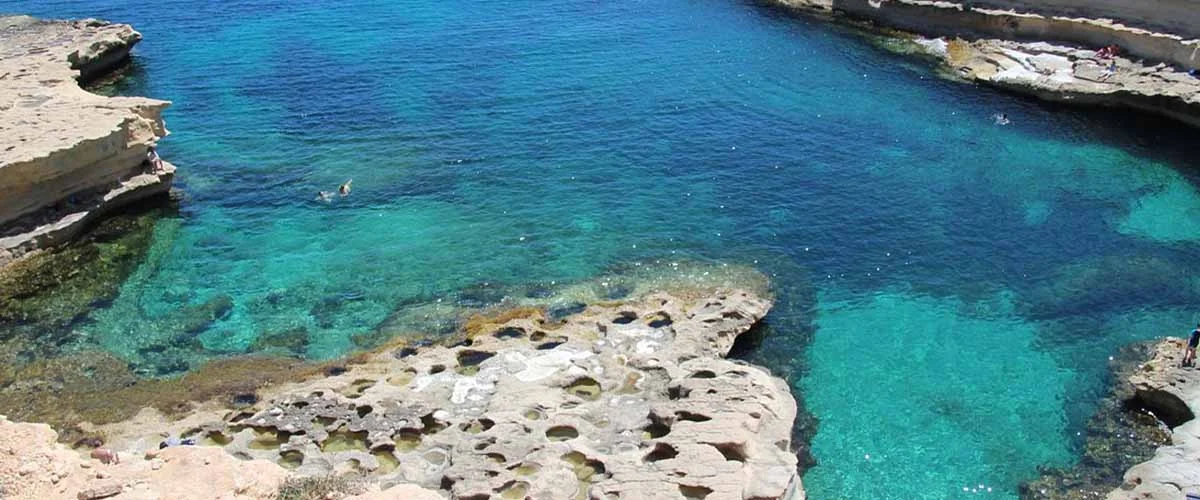 Paradise Bay – Mellieha
This beach is aptly named, as it truly feels like paradise! Located on the northern shoreline of Malta, Paradise Bay offers stunning views and crystal-clear waters. The sand is soft and white, making it an ideal spot for swimming or simply relaxing on your own private stretch of beachfront property. There are also plenty of amenities nearby, such as restaurants and cafes, so that you can enjoy all that Paradise Bay has to offer without ever having to leave!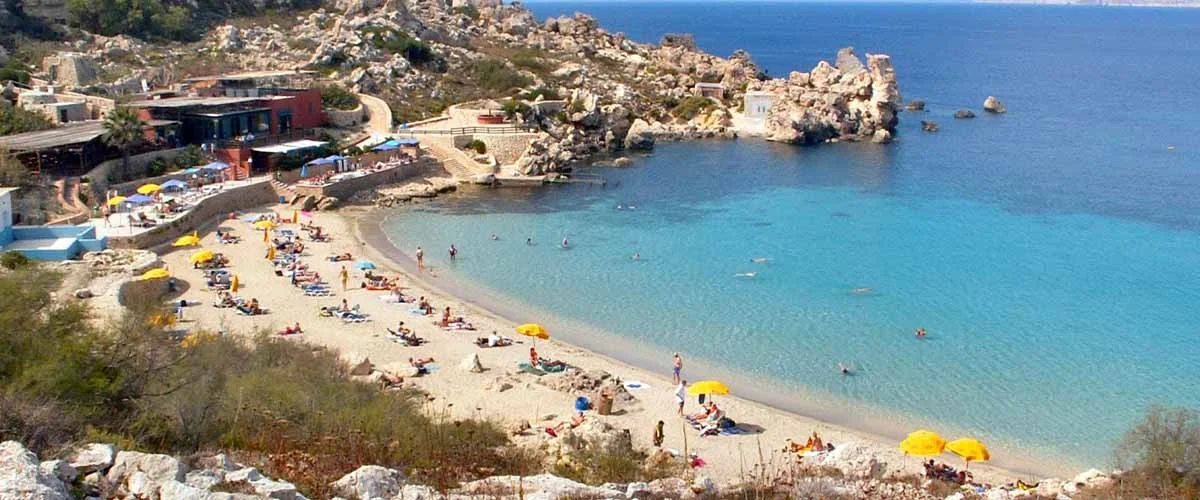 St. Geroge's Beach – St. Julian's
St. George's Beach is the perfect holiday destination for those looking to combine beach fun and nightlife in Malta. Located in close proximity to the biggest party hubs on the island, St. George offers a great mix of sand and sea, as well as diverse activities during the day and a lively night scene during the evening.
For anyone looking to get a tan before hitting the local bars or partake in some exciting water sports followed by live music performances that last till late at night – St. George's Beach has it all! The pristine shore perfectly complements the vibe of Paceville and its vibrant atmosphere, making it difficult for visitors to have a dull moment anywhere near this picturesque beach!