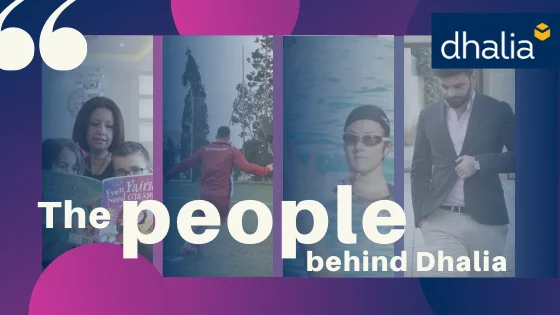 Here at Dhalia, we believe that people come first. People are the basis of our business, whether they are professional property experts or those seeking to buy, rent, and sell property. Working in real estate can be an option for all types of people. We wanted to shine a spotlight on a few of the people who make Dhalia the successful real estate company it is today.
Boss Lady Does it All  
Amanda Kidd
What's it like being a mother and a businesswoman at the same time?
Amanda Kidd shares her experience of how she found flexibility between home life and the real estate market. Amanda is a mum, a wife, and a successful businesswoman. Sometimes it feels like there aren't enough hours in a day to get everything done, but having a flexible workday makes things easier. 
"Working as a property negotiator with Dhalia gives me the flexibility to be a full-time mum and a successful businesswoman. It's the best of both worlds!"

 
Winning is a Team Effort
Clayton Failla
Clayton has a long and celebrated history as one of Malta's top football players. One thing that translates from the pitch into the office is the importance of teamwork. What's it like working in a great team? Clayton Failla shares his experience in the field and in the real estate market.
"At Dhalia, we're one big team, and it feels amazing when we score a goal."
Ambition Turns into Success
Joanne Gatt
Joanne faced one of the biggest fears people have when working as a real estate agent – giving up a salary for a commission-based income. She has been working with Dhalia for over 10 years, starting out as an administrative assistant, then becoming an office secretary. She saw how well her colleagues were doing and knew she could do it too.
"I took the plunge and became a full-time property agent. It was the best decision I ever made!"
So, what's it like when a company believes in you? Joanne Gatt shares her experience in life, in water polo, and in the real estate market.
Students Find Success Working in Real Estate
Tyler & Riccardo
When students find they have some time on their hands, working in real estate can bring in some extra cash and give them a taste of what it's like to be a professional.
"I'm a student and also a property agent, so I can attend lectures and get my studying done while earning a good paycheck."
Riccardo Grech Borg Bonaci
"Dhalia gave me all the training I needed to understand the real estate business."
Tyler Grech
Are you thinking of starting your career in real estate? The sooner you get started, the sooner you'll see results. Find out what it's like to work with Dhalia and join the team by sending your CV to hr@dhalia.com