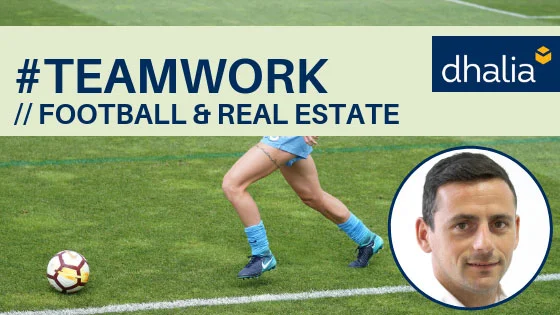 Interview with Clayton Failla, football expert, and branch manager at Dhalia's Santa Venera office
Clayton has made his mark in the Maltese football scene, having played for the national football team, the Sliema Wanderers, and his current team the Hibernians where he is the team captain. Now he's expanding his skills in the property market, working as a Branch Manager with Dhalia Real Estate Services' Santa Venera office.
As a young boy, what did you see yourself doing as a job?
For me, it was football from day one. My teachers would beg me to study but I always knew my future was in football, and I've been doing it for 21 years.
What are some challenges you face as a team captain?
The team captain has to take on many roles – on a professional level and also a personal level. Sometimes I even find myself mediating between management and players. It's all about solving problems and finding the right solution.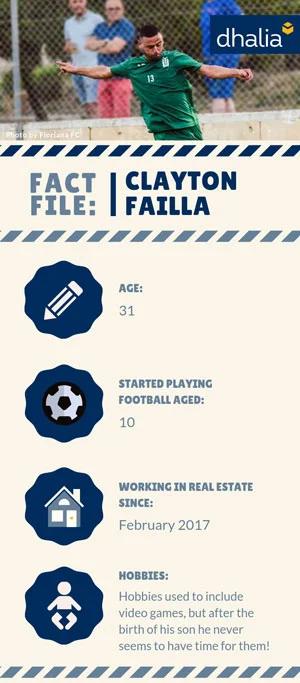 As team captain, you have to make sure your players work together to achieve results. Does this affect the way you work in real estate?
Yes, definitely – I think many of the skills I've developed as a footballer have come in handy also in the real estate business. When it comes to matching buyers with a property, it comes down to working hand-in-hand with the clients, understanding exactly what they need from the property, and also from myself as their agent.
What are the skills you need to be a great football player?
Every player brings their own unique skills to the field. I believe that with enough hard work you can accomplish your dreams. If you possess determination and the willpower to keep going, you can work hard to achieve your goal.
What are the skills you need to work in real estate?
I think hard work and determination are great assets in real estate as well as football. Of course with real estate, you also need to have an outgoing personality, an honest nature, and the ability to learn from your mistakes. These traits will help you handle any disappointment and find a solution when there are issues.
On the pitch and in the office, do you reach success by working as a team or working alone?
In both football and property, there is always a level of teamwork going on where we help each other with the run of the mill problems.
Sometimes it will depend on the client, as the solution might be to work with a colleague who specialises in a certain type of property or a certain location. We are always available to help new property agents to learn the ropes, but we also give space for people to find the best solution for themselves. This way, when one person succeeds we all succeed.
How do you feel when you score a goal or win a match?
I can't describe the amazing feeling – it's an overwhelming emotion that shoots through you and resonates. It's fantastic to feel successful after training so hard.

How do you feel when you make a sale?
The same! It's great to reach a conclusion after going through the whole process and reaching the goal.
How long will you remain active in football?
As long as my body lets me!
What do you see yourself doing afterward?
If you had asked me that question a year ago, I would have said coaching, to keep involved in football. But now – I'm not so sure. Being an estate agent is a great job with lots of flexibility and high returns. And every day I enjoy it more and more!
What made you enter the real estate business?
I never thought I'd end up in the property. I had worked in a factory for 13 years, then I met Dhalia's Marsascala branch manager. After speaking to him for an hour I was convinced! I gave in my notice right away and never looked back.
Why did you choose Dhalia?
Dhalia took a chance on me and gave me an opportunity. I could have been rubbish at the job! They saw my skills and thought I would be a success, and I wouldn't work with any other estate agency.
---
Do you want to join a winning team? Dhalia is recruiting property consultants. No experience necessary, all training provided, flexible hours. Apply now!