Malta is well-known for its beautiful balconies, which are a staple feature of the island's architecture. But what is the story behind these iconic features? In this blog post, we look at ten interesting facts about Maltese balconies and their historic beauty. From their origins as outdoor living spaces to their recent use as decorative elements, there's much to learn about these fascinating features! So read on to find out more.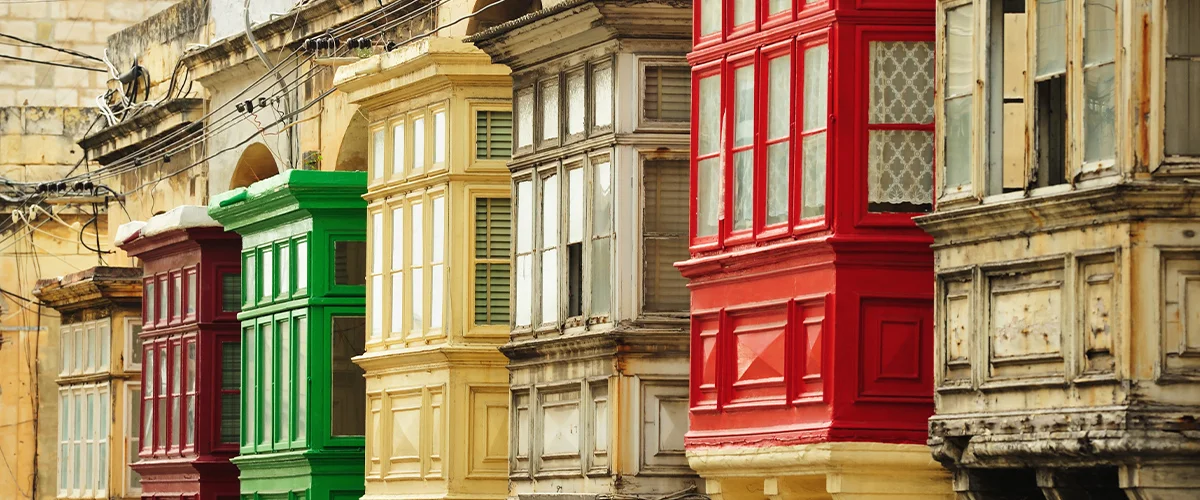 The Origin Of The Maltese Balcony
Maltese balconies are believed to have originated in the 16th century, during the period of Ottoman rule. During this time, many buildings in Malta were constructed with large projecting balconies that served as a sunshade and a place to socialize. These early Maltese balconies were often ornate, with intricate metalwork and colorful tiles.
The original arab balcony or muxrabija dates back to ancient times. Though its original purpose was to provide protection from the sun's rays and heat, today, it has become a beautifully designed element that adorns the outside of a building. Typically built using wood and incorporating intricate fretwork and painted in bright colors, these balconies often become a highlight of any location they are located in. The Maltese balcony is a testament to how multiculturalism created a beautiful architectural element from something functional centuries ago!
After the Ottomans were ousted from Malta in the late 17th century, the style of Maltese balcony began to change. The new ruling class, the Knights of Malta, were more concerned with function than form, so the Maltese balcony evolved into a simpler, more practical style. This type of balcony became very popular in the 18th and 19th centuries and can still be seen on many buildings throughout Malta today.
10 Fascinating Facts About Maltese Balconies
If you've ever been to Malta, chances are you've noticed the plethora of Maltese balconies gracing the buildings. These elements are a staple of Maltese architecture and are one of the things that make the country so unique. Here are 10 facts about Maltese balconies that you probably didn't know!
During the 17th century, the Knight's Order declared that all homes in Valletta must exude some form of design. Residents commemorated this ruling with three unique styles: religious imagery adorning their facades, pilaster, and cornices aligned to match architectural elevation style, or balconies encompassing each block.

The balconies were initially made out of wood, but after several fires, some were replaced with wrought iron. 

If you've ever seen a Maltese balcony, chances are it matches the color of the door – signaling that each homeowner had their personality and style. From red to navy to bright purple, these balconies are an ode to individuality!

The Maltese refer to their balconies as

gallarija

, which literally means 'gallery' in English.

In Valletta, the government mandated that corners of buildings be ornately embellished. Consequently, you can find either statues or windows gracefully adorning those sections on many structures throughout this city. 

Maltese Balconies have historically been priced according to their width, measured in the number of panels (

purtellas

) they contain. The greater the breadth of a balcony, the more

purtellas

are required for construction – thus, its cost increases accordingly.

It is widely accepted that the Grand Master's Palace in Valletta was home to some of the first enclosed balconies.

Today, there are over 3,000 registered designs for Maltese balconies! 

These enclosed balconies originated

in Arabic times when women had to be hidden. Nevertheless, the Maltese society didn't stifle women but instead shifted their role to being primarily housewives. Legend has it that these structures were initially constructed to hide females from wandering knights, but this fact still has to be historically confirmed.

Not only are the balconies adorned in wooden-colored boxes, but their terraces feature beautiful stone supports known as

saljaturi

. These decorative elements can range from simple to incredibly intricate designs, truly enhancing any balcony's charm.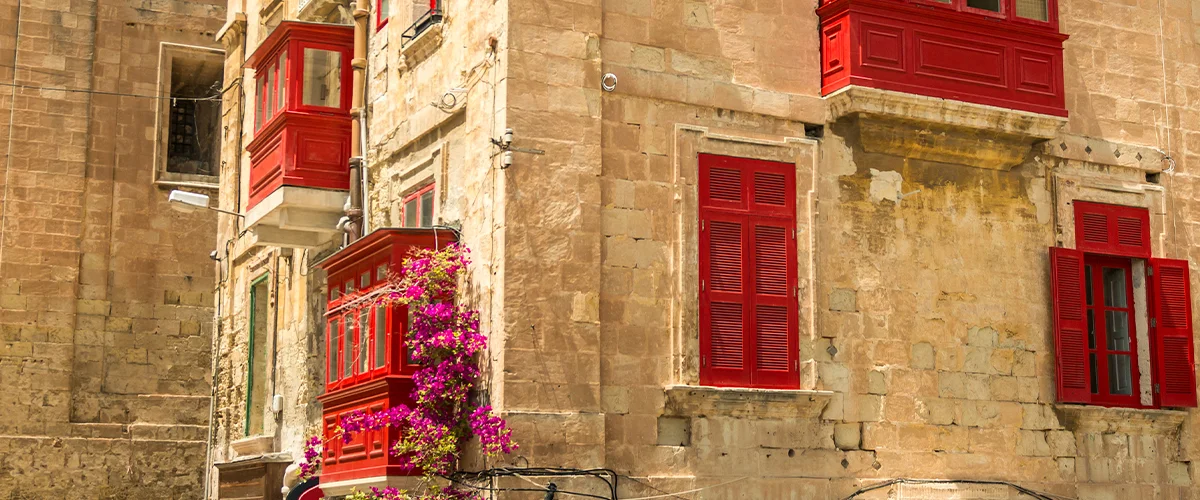 Mdina And Valletta: Where Maltese Balconies Shine Best
Mdina is a place of great historical and architectural importance, with glimpses of its varied heritage evident in the traditional balconies one can find across the city. Many superb samples representing the evolution of balconies over centuries give visitors a glimpse into times gone by – from ornately elegant styles developed by some of Malta's most renowned architects to ancient wrought iron and woodworks crafted lovingly by local artisans. It is indeed an exquisite experience to witness so many unique examples present in such a small area, truly bringing to life the stories from different eras that have made Mdina what it is today.
Another spot where you can enjoy the beauty of this architectural element is Valletta. Unsurprisingly, wooden balconies are a prominent feature of Malta's capital city. A delightful sight to behold, the city is home to some of the smallest wooden balconies which can be found around the narrow lower streets, and each one typically sports three glass windows. For those wanting more grandeur, perhaps the largest and most impressive wooden balcony is located at Grand Master's Palace in Valletta, wrapping itself around the left and right corners of its façade. Taking a stroll around Valletta and soaking in its rich heritage could mean visiting one of these beautiful balconies along the way.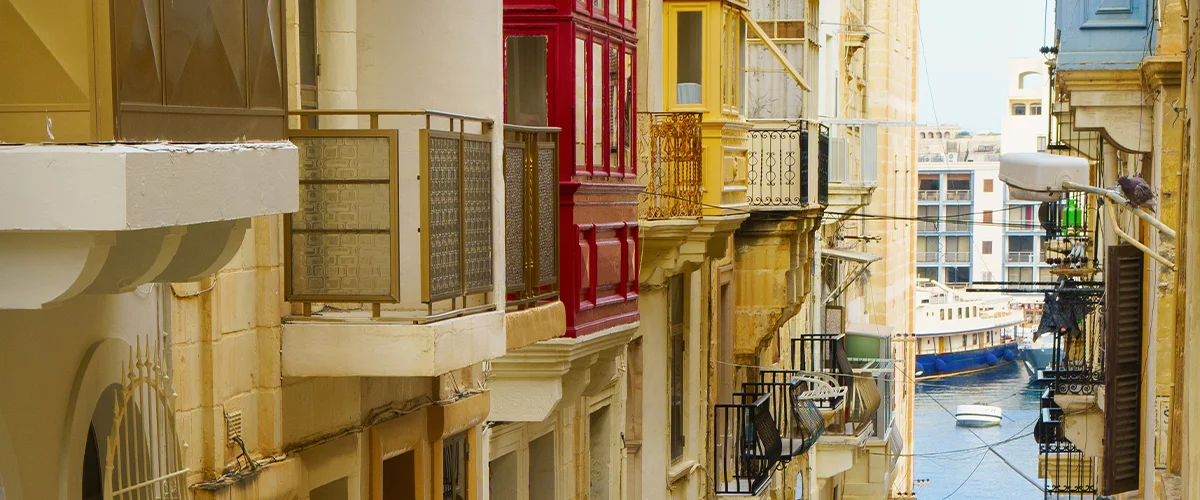 Maltese Balconies And The Real Estate Industry
The nostalgia of original balconies in Malta's real estate is an attractive feature highly sought-after by younger generations of investors. Buyers are actually asking for these specific features in a home, and it's great to see that local authorities are preserving the original townhouses in this beautiful Mediterranean country. During drives through St. Julian's, it is clear that developers have found a way to retain the classic facades or even build higher structures without neglecting these pastel-painted balconies. It's a small architectural detail that makes a huge difference in leaving historical impressions on the streets of Malta.
The balcony is often seen as an oasis, offering a wealth of opportunities to families lucky enough to possess one. It can be used as a valuable and convenient spot to dry laundry while being exposed to the sun and air in a tranquil setting – away from the hustle and bustle of the city below. It can also function as an outdoor space to relax with a good book or collection of plants in conservatory style or even house any number of items in neat box rooms. There's nothing quite like taking some alone time leaning on the railing outside, basking in the sunshine as you watch life pass by. For many, a balcony is more than just an architectural afterthought – it can be a haven for entertainment and relaxation.