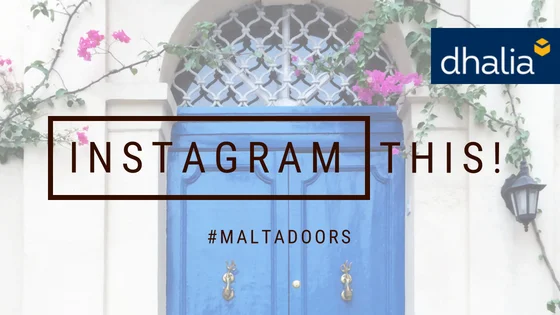 They're as common as the sunny days in Malta, yet the front doors of our island's homes, shops, and offices didn't get much attention until recently. We spoke to Lisa Gwen Baldacchino, the woman behind the #Maltadoors project to get the inside scoop.
How did you decide to start the Maltadoors project?
Actually, I didn't – not consciously at least. I was merely trying to find sense in the chaos that was my photo gallery. I realised that I had been increasingly taking images of doors, facades, and details thereof, and simply wanted to organise them on a single platform. The 'project' only took form over time; organically. It wasn't intentional, it 'happened' as a result of all the feedback I received and still continue to receive, and also because the more images of doors, builds, and facades I took, the more painfully aware I became of the alarmingly rapid rate at which such builds were disappearing, and transforming into 'modern' counterparts.
Knobs, gates, windows, plants… how do you decide what to photograph – the big picture or the small details?
Honestly, I'm not sure I can answer that. I never quite know what it is I am going to photograph until I do. I could walk past the same stretch of road, day in, day out, and not focus on a single detail. Then all of a sudden, it could be the light, a parked car, a semi-open door, a cat washing itselfon the front doorstep, will alter the dynamic of the space completely – and suddenly my eyes home in on a detail or frame an image, as though I were experiencing it all for the very first time. I was once asked how I always manage to notice the smaller, more intricate details, or how I pick up on a possibly good shot – and my only answer is: Once you open your eyes, you can't stop seeing. Then it's all about decisions and selection.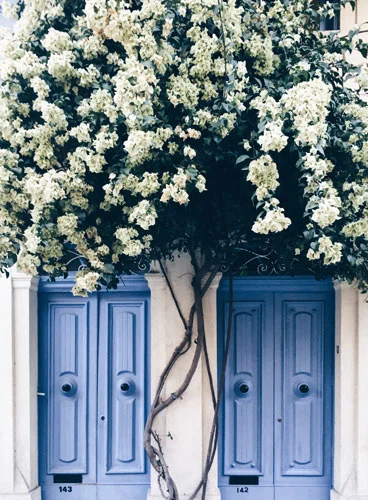 How did you feel when your Malta doors project turned into a national phenomenon?
Not sure I would call it a phenomenon, although I'm always flattered and humbled when people point out the 'success' of my project / non-project… I think MaltaDoors struck and strikes a chord with many people, because of the sheer simplicity of what it represents. I am basically taking photos of the exteriors of people's homes. We all have an image of 'home' in our heads, and we all have visuals which we associate with our identity, our country, and our culture, and I think that MaltaDoors taps into that – it taps into memory. And it also highlights the strong aesthetic of our cultural heritage, of our residential architecture in a time where there seems to be such 'rape' to our urban landscape.
Some of your snaps don't show a clean, bright, well-maintained facade, but actually peeling paint, rust, dirt, and stains. How do you feel about these houses?
Before MaltaDoors was even thought of, I had a very strong interest in abandoned spaces and places. I had started documenting them through a 'series' of images, which I collectively titled 'Abandonment Issues', mostly, in an effort to deal with personal emotions, by attempting to transpose them into something physical, manageable. I guess this aspect still plays an important role in the way I look at builds and facades. I am forever fascinated, by those uninhabited spaces, the 'emptiness' the apparent voids – simply because they still contain the energy of human activity, of what once was, of what could have been. In that respect, they possess much more charm, character, personality if you like, than the squeaky clean facades.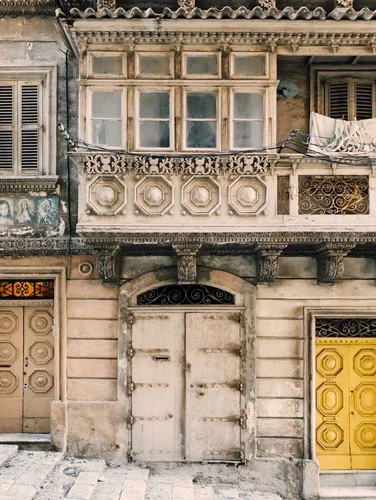 Have you ever been invited inside one of the doors in your photographs?
I have actually, but I have never accepted. And I'll tell you why: I like the mystique of not knowing what happens behind the closed doors, for the large part. Even though I am terribly curious and incredibly intent on wanting to discover or even dream up the stories of the home-owners and the history of the homes. Yet, I would like it to be my decision to cross that border and to alter that dynamic.
What are the criteria for the doors that you photograph?
None, whatsoever. I have even photographed a few aluminum doors – even the gold kind.
Which is your favourite door?
That question is impossible to answer I'm afraid. Simply because my favourite keeps changing. What I can say, for a fact, is that I have an incredible penchant for post-war / mid-century modern build – there's one in Misrah San Alwigi, lovingly converted by A Collective, which I lust over every time I visit my mum, who lives a couple of doors away. And just along Old Railway, is the gloriously quirky, pink and green, wide-fronted WilMarVille on Old Railway Road – both houses I constantly and persistently keep photographing throughout the seasons and times of the day.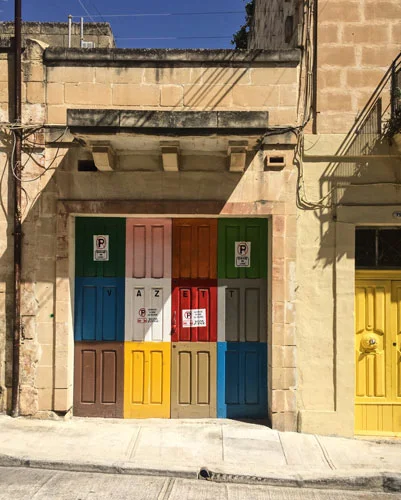 Have you photographed your own front door?
Yes, a couple of times actually – technically they are front doors. I have the main door and a side door.
You call yourself the local tourist – do you take photos of anything besides doors?
Oh yes. I take photos of all that tickles my fancy. Although I am decidedly not into portraits or people, really – I prefer quiet scenes, devoid of human presence. The only 'portraits' I've ever taken care of loved ones, people with whom I have a connection, and whom I can really see, in all their shades and colours. Once in a while, I will capture a person or group, but it has to be incredibly spontaneous, and the moment has to mean something to me. I am terribly sentimental, everything I do is driven by emotion.
What is the strangest thing you've photographed in Malta?
Strange, weird, and quirky, is pretty commonplace in Malta. Having said that, I recall a couple of images – one of a nun, clad in white, reading a book and sitting in front of a boathouse door at the Inland Sea; another of a man snoozing on a doorstep in Bormla, or Christmas door decorations, wrapped in plastic because of the impending bad weather, clotheslines on the façade of a house, displaying multi-coloured underwear of varying sizes, even weird notes attached to doors for the mailman or visitors. Then there are the house names like 'Rensim' or 'Robdoll', or even 'China', 'Japan' and separately 'Hong' and 'Kong'. So many reasons to smile and chuckle.
TECHNICAL QUESTIONS
Ideal conditions for a great photo 
What time?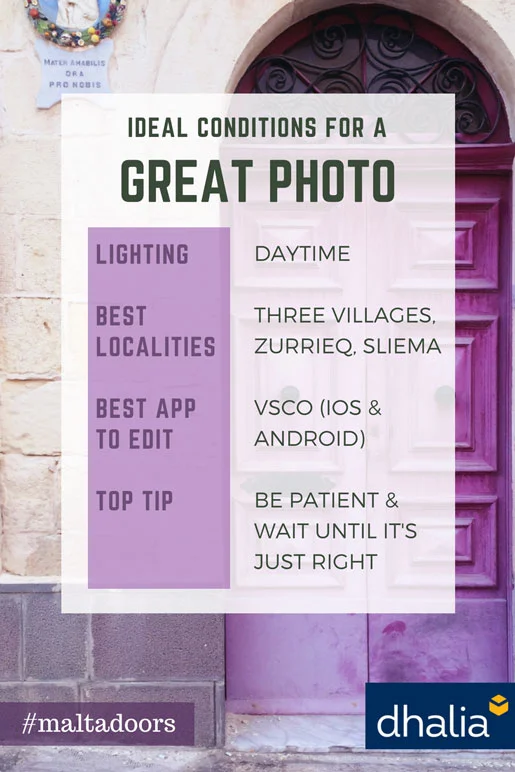 Time depends on the season. And more than the 'time' it's the light that completely affects and determines the strength of a shot. Shadows and plays of lights can be an interesting tool when taking photos, however, they can also be a deterrent. You learn to look for the light and use it to your advantage.
Best angle?
Most of my shots are deadpan. Depending on the door and façade, I might opt for a close-up detail, or a long shot, in order to capture more of the build
Best lighting?
Always daytime. In the warmer months, I opt for early morning, early afternoon, or even end of day shots. I don't 'do' night shots, and neither do I ever take any images in B&W – for the simple reason that most of our architecture loses out when photographed in B&W. Modernist builds might look amazing, but our limestone, the coloured apertures, the textures and stone details, need colour to be properly enhanced.
Best colours to photograph?
There are no 'best' colours per se, only favourite colours, and those would be the pink doors and walls. I just love a pop of colour.
Top 3 localities for excellent doors?
Possibly the Three Villages, Zurrieq, and Sliema – although I have to say, since actively taking up door hunting as an activity, I have become a lot more aware of our gorgeous village city cores. I can honestly say that I have found countless gems in each and every place I have visited.
Any tips for getting the shot just right?
My secret is possibly patience. I have often journeyed to a locality or specific street as many as 5 or 6 times. Often in the hopes of not finding cars parked in front of that specific place. However, I'm not sure I know how to explain, composition or balance – I generally see a shot long before I would have taken it.
Is it necessary to edit your photos?
I do edit most of my images – mostly it's a good crop in order to get the right composition and balance. Although I take my IG photos with my phone, which is just a regular iPhone, I also use my camera, as I've needed higher res and more quality images, especially for printing. I use VSCO as an editing tool, which is incredibly effective once you learn to use it.
Which hashtags can we follow for inspiration (besides #maltadoors)?
There's a whole community of 'door hunters' out there – however, I find some of the best inspiration in accounts such as Accidentally Wes Anderson #AccidentallyWesAnderson, or I have a thing for walls #ihaveathingforwalls, and Plants on Pink #plantsonpink for instance.
Visit the Maltadoors store to pick up a print for your home.