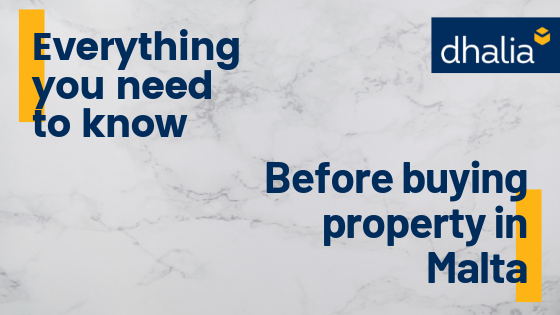 When purchasing property as a foreigner, you will need the services of trusted professionals to get the process done correctly. Choosing the right professionals will save you time and money, while also ensuring you don't find problems down the line. 
Professionals can help you buy property in Malta
Architect – will inspect the property and make sure there are no irregularities, structural issues, and that everything is up to standard. Your architect will also be able to provide you with a valuation of the property.
Notary – your notary will draw up the contract and make sure that the seller is legally allowed to transfer the property, and that there is no obligation upon it. The notary will also register the sale with the Public Registry.
Estate Agent – will help you to find the right property and negotiate the price with the seller. Your agent will also advise you on how to go about the legal obligations involved and can suggest other professionals.
ENERGY PERFORMANCE CERTIFICATE
When buying property in Malta, the law requires that the seller presents an energy performance certificate to the buyer. This document informs the buyer about the energy performance of a building. Certificates are prepared by a qualified assessor who is registered with the Building Regulation Office. The certificate is valid for 10 years unless there are significant changes made to the building.
TAX EXEMPTIONS FOR EXPATS 
Individuals who obtain Maltese citizenship can retain "non-domiciled" status and benefit from an advantageous tax system of the Maltese Islands. As a general principle, Maltese residents who are non-domiciled are only required to pay tax on income earned or received within the country.
People who are residents with non-domicile status, with an income of €35,000 or more annually arising outside of Malta which is received in Malta, must pay a minimum of €5000 in tax. Regular tax rates apply to those with an income of less than €35,000 per year.
Global residents can benefit from Malta's double taxation agreements with most EU countries, USA, Canada, and Australia.
ACQUISITION OF IMMOVABLE PROPERTY (AIP) PERMIT
Any non-Maltese national purchasing property in Malta which will not be their primary residence will require an AIP permit.
EU citizens purchasing property in Malta as their primary residence do not need an AIP permit.
If an EU citizen has resided in Malta for more than 5 years, then they will not require an AIP permit, whether this will be their primary residence or not.
If an EU citizen is purchasing property in Malta as a second home (and therefore not as a primary residence), then they will require an AIP permit.
The minimum property values are:
Flat/Maisonette €121,792
Any other property €202,929
These values are subject to change according to the Property Price Index.
A fee of €233 is charged per permit, and the permit is usually issued within 35 days.
SPECIAL DESIGNATED AREAS (SDAS)
Immovable Property (AIP) permit from the Maltese government. When buying property in an SDA this permit is not necessary. Anyone may buy property in Malta within special designated areas, without restrictions or permits.
EXPENSES INVOLVED IN PURCHASING PROPERTY IN MALTA
Stamp duty 5%*
Notarial fee around 1%
Searches around €300 (the cost of searches varies on a case-by-case basis)
AIP (where applicable) €233 plus professional fees for accountant, auditor,
lawyer etc.
Recognition fee equivalent to one year's ground rent (only applicable to
properties subject to ground rent)
*Stamp duty is exempt on the first €175,000 of the price, and 5% on the remainder, when purchasing a place of residence as a first-time buyer.
Real estate agency fees are the responsibility of the vendor.