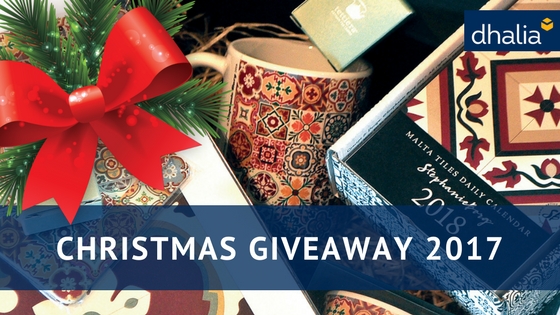 Christmas Giveaway 2017
To celebrate the season, this year we decided to run a little giveaway over on our Facebook page.
We sourced some fantastic prizes – wonderful gift boxes packed with great items designed by local artist Stephanie Borg. We chose Stephanie's work because she is a local artist who often gets inspired by the Maltese home, as you can see in her Maltese doors, Village Street, and Tile pattern collections. Her products are also great for the home, so we decided that we would give away a gift box every week in the run up to Christmas.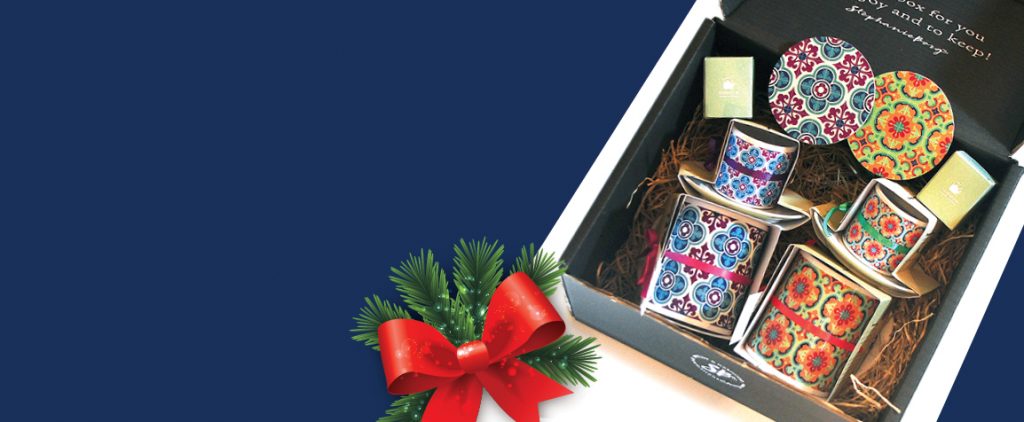 The first prize was the Village Street Gift Box, which contained a pair of mugs and a pair of espresso cups printed with Stephanie Borg's picturesque street scene – lovely, colourful Maltese front doors. We gave participants a week to comment, share, and subscribe to our newsletter, before choosing the first winner on the 7th of December.
Our first winner was Tanya Mifsud, who was not expecting to receive anything as she had participated for the fun of it. Here's a photo of Tanya receiving her gift box: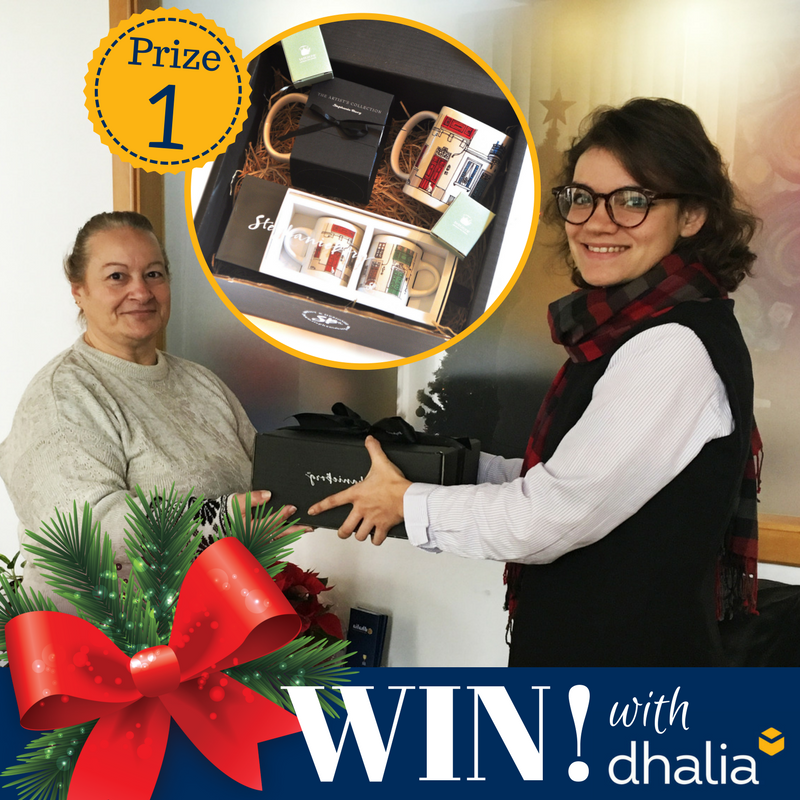 The second prize was the Tile Pattern Gift Box, which contained a set of 2 mugs, 2 espresso cups, 2 coasters, and two flavours of tea. Each item is printed with Stephanie Borg's stunning Maltese tile patterns in lovely vibrant colours.
We chose our second winner on the 14th of December, and it was the lucky Linda Galea. Linda was overjoyed to receive the gift box as she is a huge fan of Stephanie Borg's work. She will be sharing the prize with her daughter who has recently moved into her own apartment. Here's a photo of Linda receiving her prize together with her daughter: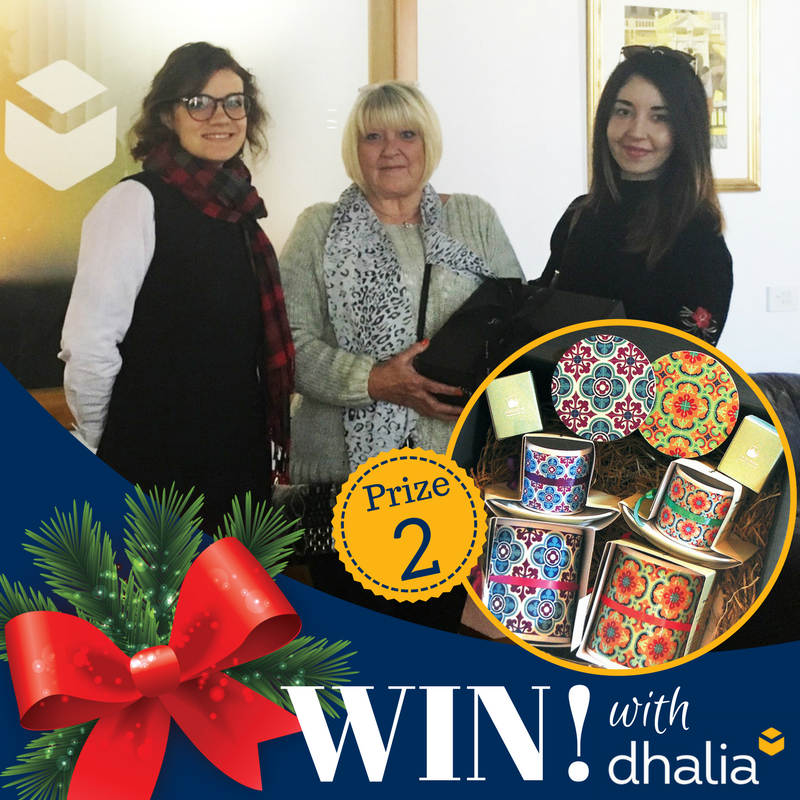 The Grand Prize was a spectacular box filled to the brim with goodies. 2 mugs, 2 coasters, 1 daily desk calendar, 1 cotton apron, and 4 boxes of tea were up for grabs – each printed with Stephanie's beautiful tile collage design.
The grand prize was drawn on the 21st of December, and our final winner was Victoria Grech. She was beyond thankful to Stephanie Borg and Dhalia for her incredible prize. "I can't believe I won the grand prize," she said "I never really thought it would happen! The gift box is so beautiful, I can't wait to use everything!"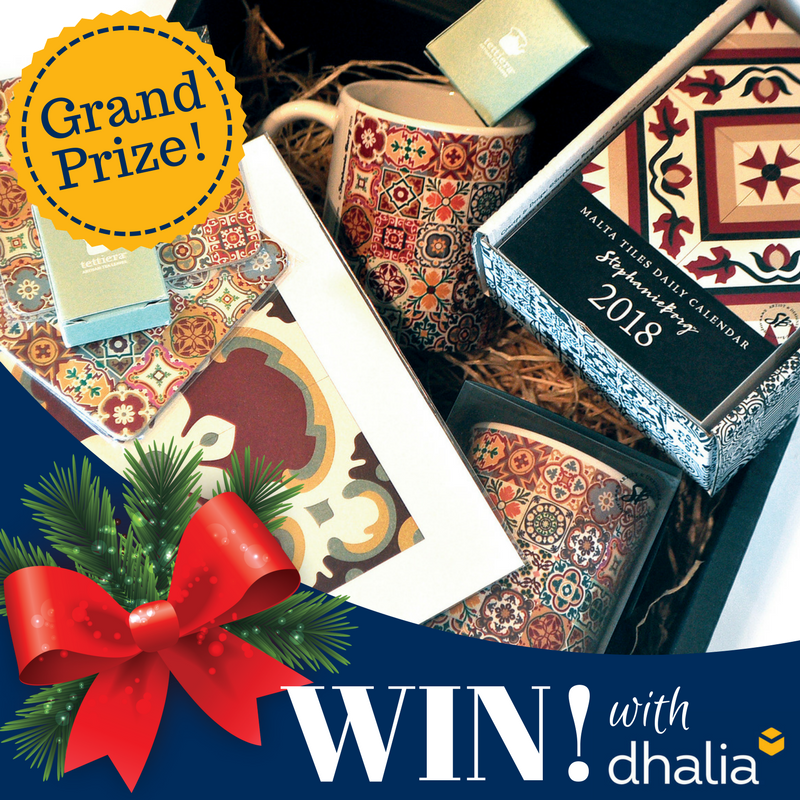 We were so pleased with the results of our giveaway! When the promotion came to a close on the 21st of December, we had 365 reactions, 469 comments, and 785 shares!
Wishing you all a wonderful holiday season and all the best for the new year, from all of us at Dhalia.